RECIPE
Sweet and Sour Chicken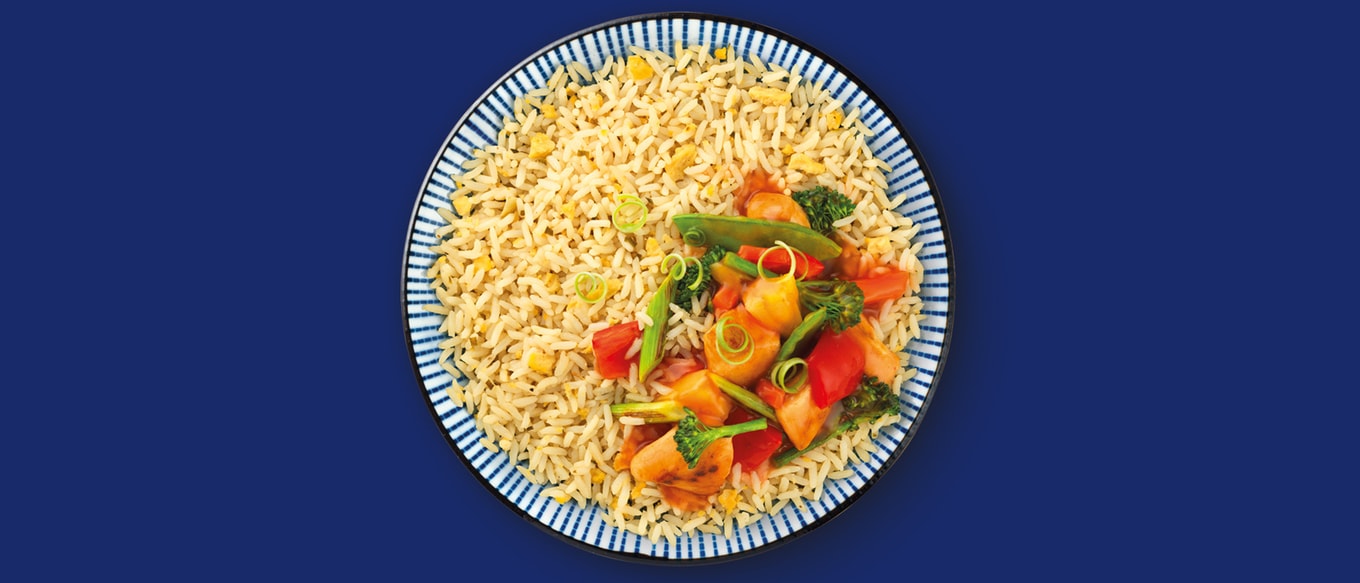 Tender meat and vegetables in a tangy sauce makes the perfect dish to inject flavour to your dinner!
INGREDIENTS
Ben's Original™ Egg Fried Microwave Rice 250g
1tbsp Sunflower Oil
2 Chicken Breasts, chopped
1 White Onion, chopped
1 Red Pepper, chopped
60g Tenderstem Broccoli Tips
60g Sugar Snap Peas
230g Tin of Pineapple Chunks in Natural Juice
2 Garlic Cloves, crushed
2cm piece of Fresh Ginger, grated
1tbsp Corn flour
1tbsp Soy Sauce
1tbsp Rice or White Wine Vinegar
1tbsp Soft Brown Sugar
2tbsp Ketchup
2 Spring Onions, sliced
INSTRUCTION
1

Firstly mix the sauce ingredients: Mix together the juice from the tinned pineapple, garlic, ginger, corn flour, soy sauce, vinegar, sugar and ketchup together in a small bowl.

2

Add the oil to a wok over a high heat. When smoking, add the chicken and stir fry until sealed. Follow with the onion, pepper, broccoli and sugar snap peas. Continue cooking until the vegetables begin to soften.

3

Add the sauce mixture to the wok and bring to the boil before reducing to a simmer. After a few minutes the sauce should begin to thicken as the corn flour cooks. Chop the tinned pineapple and add to the pan to warm through.

4

Heat the Ben's Original™ rice according to pack instructions. Split into two dishes and top with the sweet and sour chicken. Sprinkle with sliced spring onions and enjoy!
NUTRITION
Amount Per Serving
Calories 543
Carbohydrates (g) 70.9
Cholesterol (mg) 94
Dietary Fiber (g) 6.4
Energy (kJ) 2298
Protein (g) 40.8
Sugars (g) 28.7
Total Fat (g) 9.5
Saturated Fat (g) 1.5
Salt (g) 1.42
Sodium (mg) 569
Trans Fat (g) 0