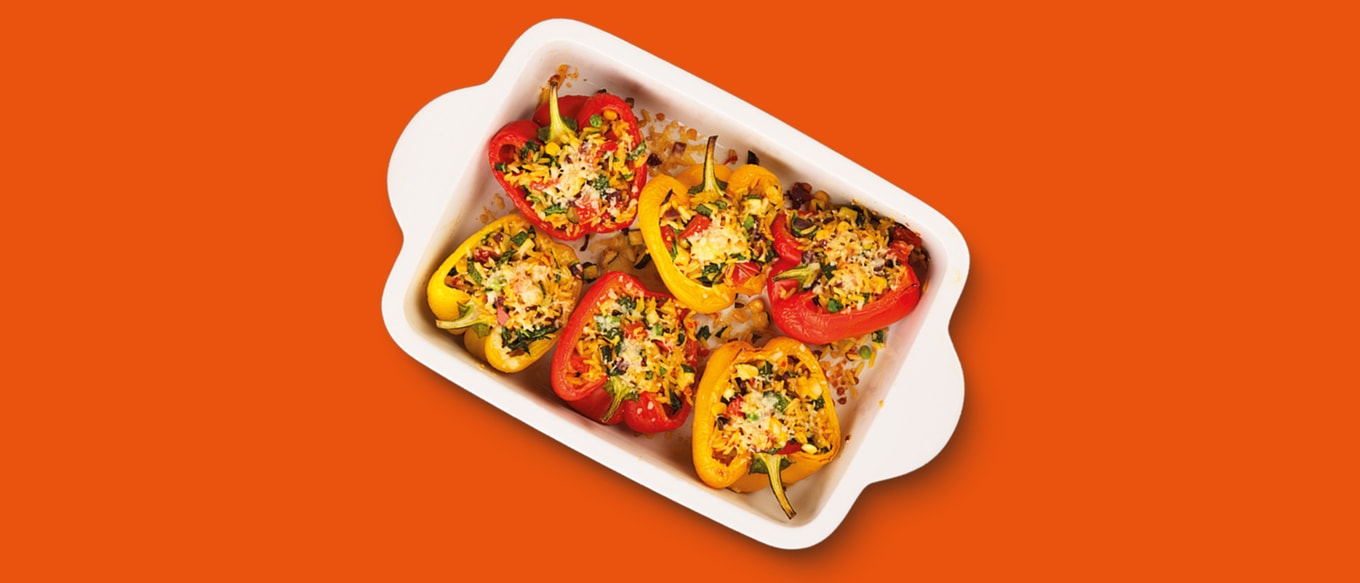 These peppers will add some colour to your mealtime. Swap the beef with roasted vegetables for a meat-free meal.
INGREDIENTS
Ben's Original™ Tomato And Basil Microwave Rice 250g
Oil spray
2 Peppers, halved and core removed
1 White Onion, chopped
250g Beef Mince
1 Garlic Clove, crushed
400g Tin Chopped Tomatoes
1 Courgette, chopped
100g Spinach, washed
50g Parmesan Cheese, grated
20g Fresh Chives, chopped
INSTRUCTION
1

Heat the oven to 180C. Spray the halved peppers with oil and place on a baking tray lined with foil. Bake for 15 minutes.

2

Place a frying pan on a medium heat and spray with oil. Add the onion and soften for 2-3 minutes, followed by the garlic and mince. Continue to cook until the mince is brown.

3

Add the courgette, chopped tomatoes and spinach and mix through to combine.

4

Add the Ben's Original™ rice into the pan, mix and heat through. Fill the peppers with the mixture and top with parmesan cheese. Bake for 10-15 minutes.

5

Remove the peppers from the oven and top with chives. Serve with a leaf salad.
NUTRITION
Amount Per Serving
Carbohydrates (g) 56.2
Cholesterol (mg) 69
Dietary Fiber (g) 6.4
Energy (kJ) 2768
Protein (g) 51.5
Sugars (g) 18.7
Total Fat (g) 23.7
Saturated Fat (g) 8.5
Salt(g) 0.75
Sodium (mg) 299
Trans Fat(g) 0.5