RECIPE
Spanish Style Rice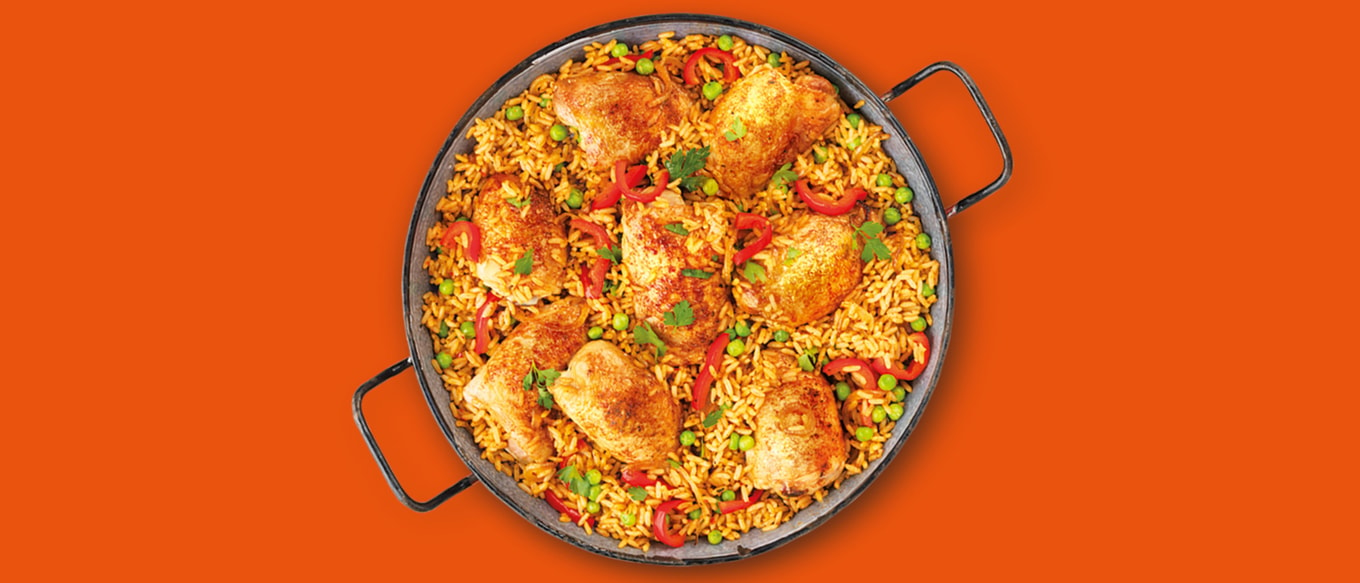 Turn dinner time into a fiesta! The bright rice and tender chicken are full of flavour and make a great sharing plate!
INGREDIENTS
Ben's Original™ Golden Vegetable Microwave Rice 250g
1tbsp Sunflower Oil
4 Chicken Thighs
1 White Onion, chopped
1 Red Pepper, chopped
1 Garlic Clove, chopped
1tsp Paprika
1tsp Ground Cumin
1tsp Dried Oregano
1tbsp Tomato Puree
1 Chicken Stock Cube
100g Frozen Peas
Small handful of Parsley, chopped
INSTRUCTION
1

Mix the dried herbs together with salt and pepper and set aside. Place the chicken thighs in a bowl with the sunflower oil and half of the spice mixture. Mix until well covered.

2

Heat a lidded casserole pan over a medium to high heat. Cook the chicken thighs on each side until browned then transfer to a plate. Add the onion and pepper to the pan, reducing the heat to low.

3

When the onions begin to go translucent add the garlic, remaining dried spices and tomato puree to the pan. Cook for 3 more minutes then add the stock cube with 300ml water.

4

Return the chicken thighs to the pan and cover. Bring to the boil then reduce to simmer for 20 minutes until the liquid has reduced and the chicken is cooked through.

5

Add the peas, Ben's Original™ rice and parsley to the pan and mix through to combine. Cook for 5 more minutes to heat the peas and rice through and allow them to absorb the flavours.
NUTRITION
Amount Per Serving
Carbohydrates (g) 48.7
Cholesterol(mg) 150
Dietary Fiber (g) 8.1
Energy (kJ) 2506
Protein (g) 35.7
Sugars (g) 7.8
Total Fat (g) 27.2
Saturated Fat (g) 6.4
Salt(g) 1.74
Sodium (mg) 697
Trans Fat(g) 0.3