RECIPE
Chicken and Pepper Skewers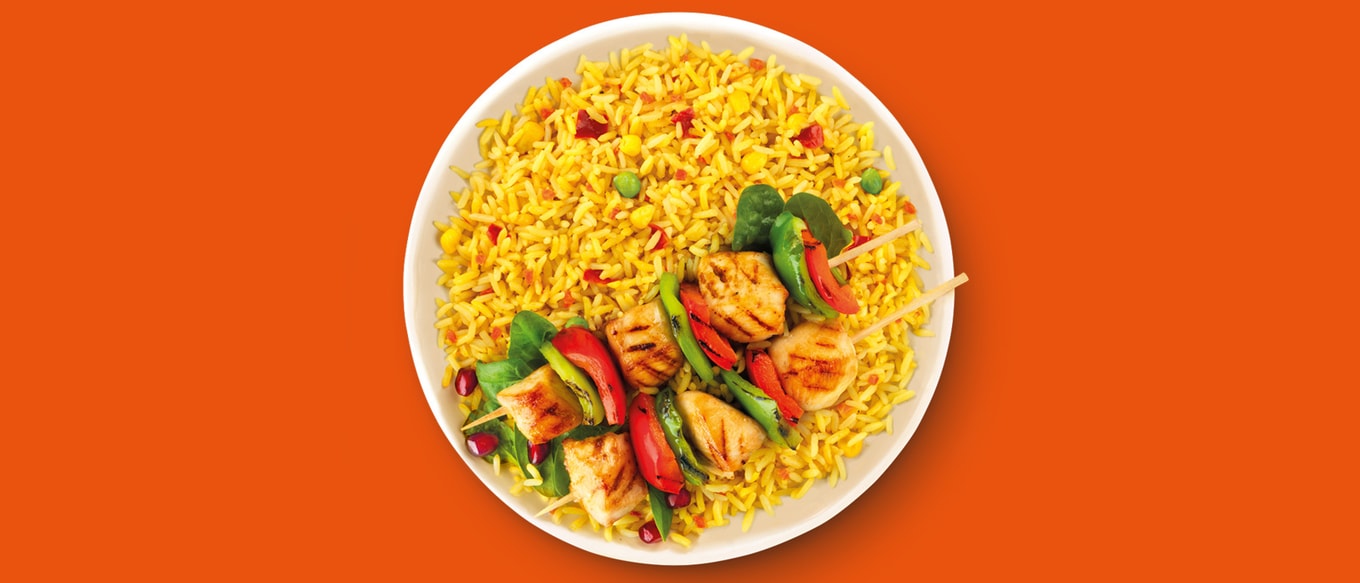 Easy to make, these skewers offer tender pieces of meat with charred vegetables - a must have dish for a Summer's day!
INGREDIENTS
Ben's Original™ Golden Vegetable Microwave Rice 250g
1tbsp Sunflower Oil
2 Chicken Breasts, cut into chunks
1tsp Paprika
1tsp Dried Oregano
1 Garlic Clove, crushed
1 Red Pepper, chopped
1 Green Pepper, chopped
INSTRUCTION
1

Add the chicken to a mixing bowl along with the oil, paprika, oregano and garlic. Mix to cover each piece of chicken and set aside.

2

Soak 4 bamboo skewers in water if using. Place a griddle pan on a high heat whilst you construct your kebabs.

3

Slide a piece of red and green pepper onto the skewer followed by a piece of chicken and repeat until each skewer is filled and you run out of chicken/peppers. Place on the griddle for 10 minutes, turning half way. Try not to move the skewers too much so they can get the classic griddle marks.

4

In the last few minutes of cooking, heat the Ben's Original™ rice according to pack instructions then place into bowls. Take the skewers straight from the pan and place on top of the rice.
NUTRITION
Amount Per Serving
Carbohydrates (g) 39.2
Cholesterol(mg) 94
Dietary Fiber (g) 4
Energy (kJ) 1661
Protein (g) 37.1
Sugars (g) 1.2
Total Fat (g) 8
Saturated Fat (g) 1.3
Salt(g) 0.62
Sodium (mg) 247
Trans Fat(g) 0