RECIPE
Herby Chicken with Pesto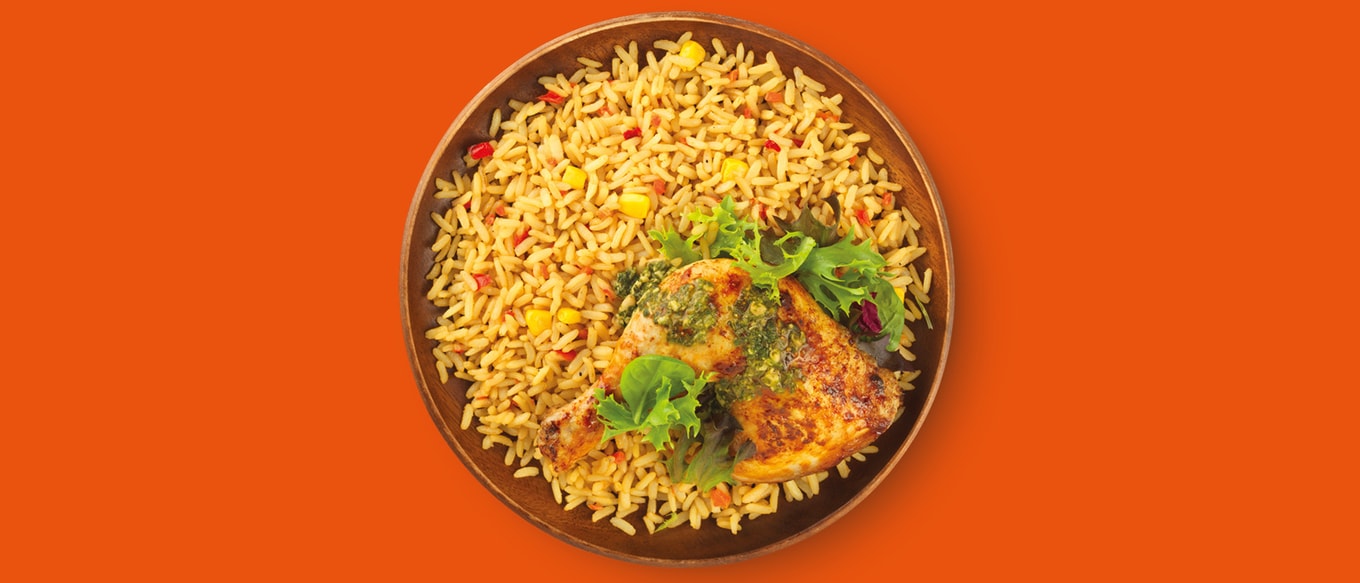 Chicken pieces with fresh herbs and wholegrain rice make a healthy but filling meal. Enjoy with your favourite salad mix!
INGREDIENTS
Ben's Original™ Wholegrain Savoury Chicken Microwave Rice 250g
2tbsp Sunflower Oil
4 Chicken Pieces (Thighs or Drumsticks work well)
1tsp Dried Oregano
1tsp Dried Basil
1tsp Onion Powder
1tsp Garlic Powder
100g Pine Nuts
70g Fresh Basil
1 Garlic Clove, crushed
100ml Olive Oil
80g Your Favourite Salad Mix
INSTRUCTION
1

Heat oven to 190C. Line an oven tray with foil. In a large bowl mix together all of the dried herbs/spices with the sunflower oil. Add the chicken pieces and mix until fully coated. Place in a single layer on the tray.

2

Bake the chicken pieces for 25 minutes, then turn and cook for a further 10 minutes until the juices run clear.

3

To make the pesto, dry fry the pine nuts in a frying pan over a medium heat until golden and releasing a nutty aroma. Combine the nuts, basil, garlic and olive oil in a food processor or pestle and mortar and blend until smooth.

4

Heat the Ben's Original™ rice according to pack instructions then place into bowls. Top with the baked chicken pieces and drizzle over your homemade pesto (any leftovers can be kept in a jar in the fridge for up to a week). Serve your favourite salad leaves on the side and enjoy.
NUTRITION
Amount Per Serving
Carbohydrates (g) 386
Cholesterol (mg) 129
Dietary Fiber (g) 7.1
Energy (kJ) 2675
Protein (g) 32.5
Sugars (g) 3.2
Total Fat (g) 38
Saturated Fat (g) 6.6
Salt (g) 0.8
Sodium (mg) 320
Trans Fat(g) 0