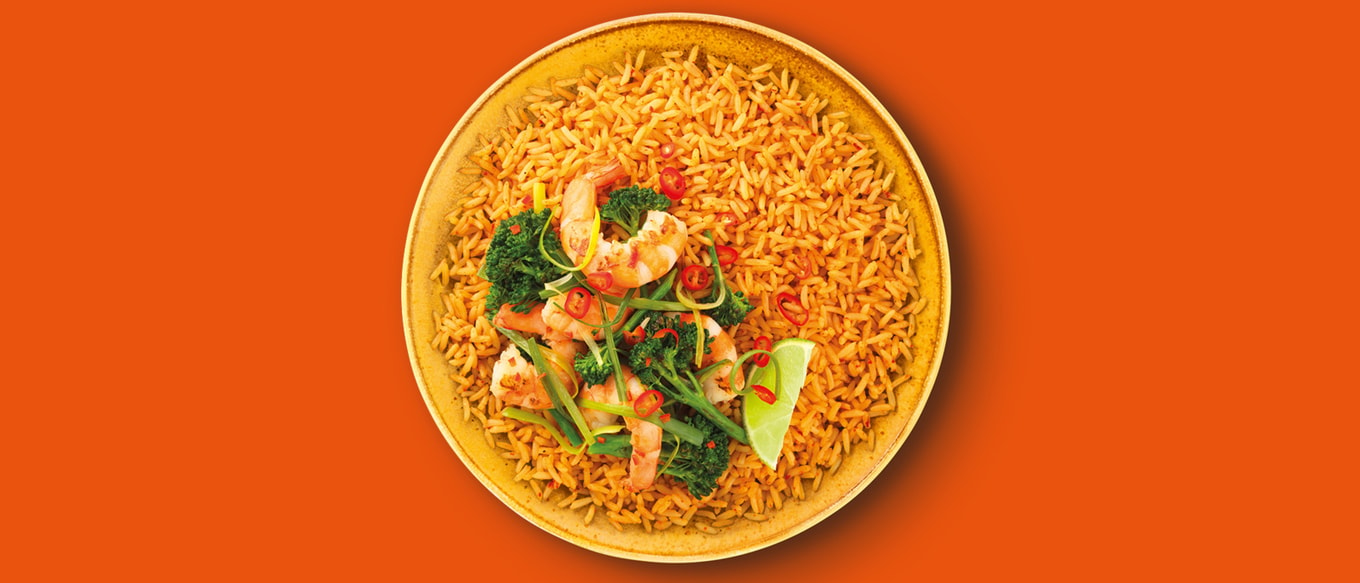 This stir fry has a kick and is packed with flavour. Easy and quick to make, we think it's perfect for a midweek meal.
INGREDIENTS
Ben's Original™ Spicy Chilli Microwave Rice 250g
1tbsp Sunflower Oil
150g Raw King Prawns
1 Garlic Clove, chopped
2cm piece of Fresh Ginger, grated
1 Red Chilli, chopped
100g Tenderstem Broccoli Tips
1 Green Pepper, chopped
4 Spring Onions, sliced
1tbsp Soy Sauce
Small handful of Coriander, chopped
INSTRUCTION
1

Heat the oil in a wok over a high heat. Add the garlic, ginger and chilli, stirring constantly for 1 minute. Followed by the broccoli and green pepper.

2

When starting to go tender add the prawns to the pan along with the spring onions. Toss for a few minutes until the prawns turn pink. Heat the Ben's Original™ rice according to pack instructions.

3

Just before serving mix the soy sauce into the stir fry and place in bowls on top of the rice. Sprinkle with coriander and serve.
NUTRITION
Amount Per Serving
Calories 332
Carbohydrates (g) 47.3
Cholesterol (mg) 145
Dietary Fiber (g) 4.6
Energy (kJ) 1402
Protein (g) 25.3
Sugars (g) 5.4
Total Fat (g) 3.6
Saturated Fat (g) 0.5
Salt (g) 1.76
Sodium (mg) 705
Trans Fat (g) 0