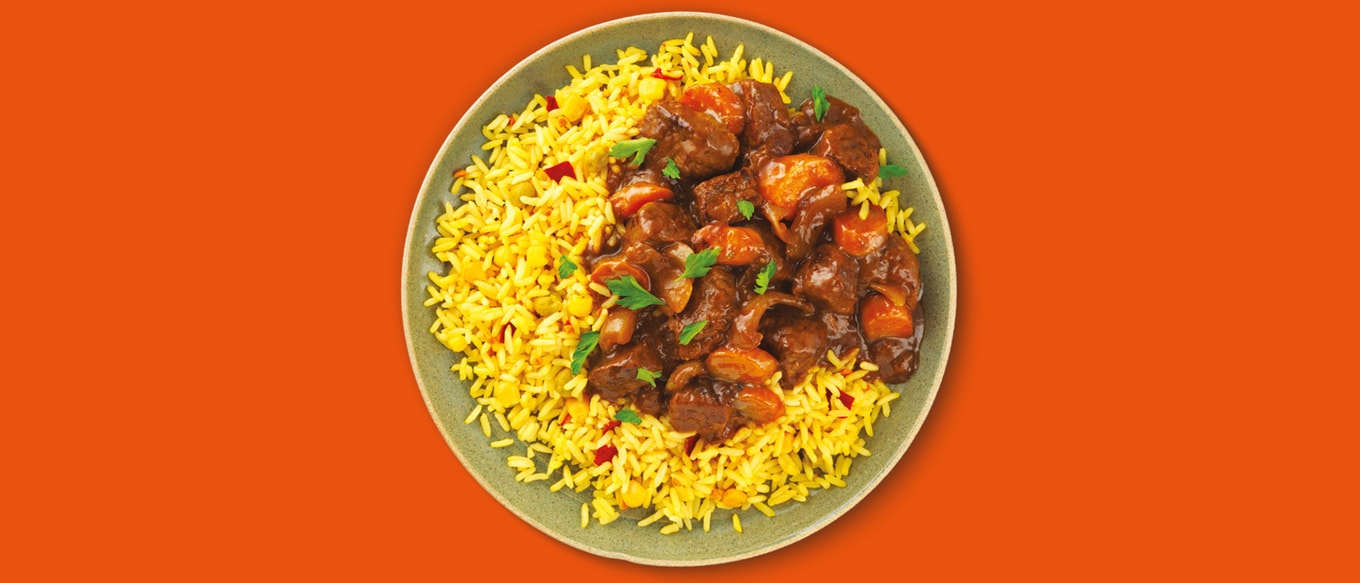 This beef stew is great for a night in. The slow cooking makes the beef tender and the rich sauce is delicious with rice!
INGREDIENTS
Ben's Original™ Golden Vegetable Microwave Rice 250g
1tbsp Vegetable Oil 300g Stewing Beef, diced
1 White Onion, roughly chopped
2 Celery Sticks, roughly chopped
1 Large Carrot, sliced
1 sprig of Fresh Thyme
1 Bay Leaf
1tbsp Plain Flour
1tbsp Tomato Puree
1tbsp Worcestershire Sauce
1 Beef Stock Cube
Small handful of Fresh Parsley, roughly chopped
INSTRUCTION
1

Pre-heat the oven to 160C. Heat the oil in a casserole pan on a medium heat. Add the diced beef to seal. When brown, remove from the pan onto a plate.

2

Add the onion, celery, carrot, thyme and bay leaf into the pan and soften for 10 minutes, or until the onions are translucent.

3

Stir in the flour until fully coating the vegetables and cook off for 2 minutes. Then add the tomato puree, Worcestershire sauce and beef stock cube.

4

Stir in 400ml of hot water, then add the beef back into the pan. Bring to the boil then turn off the heat and cover the pan with a lid.

5

Place in the oven for 2 hours until the meat is tender and the sauce reduced. Remove from the oven and heat your Ben's Original™ rice pack according to pack instructions. Sprinkle chopped parsley over the stew and serve.
NUTRITION
Amount Per Serving
Carbohydrates (g) 16.2
Cholesterol(mg) 135
Dietary Fiber (g) 4.1
Energy (kJ) 1828
Protein (g) 49.5
Sugars (g) 8.9
Total Fat (g) 18.3
Saturated Fat (g) 6
Salt(g) 1.37
Sodium (mg) 548
Trans Fat(g) 0.5