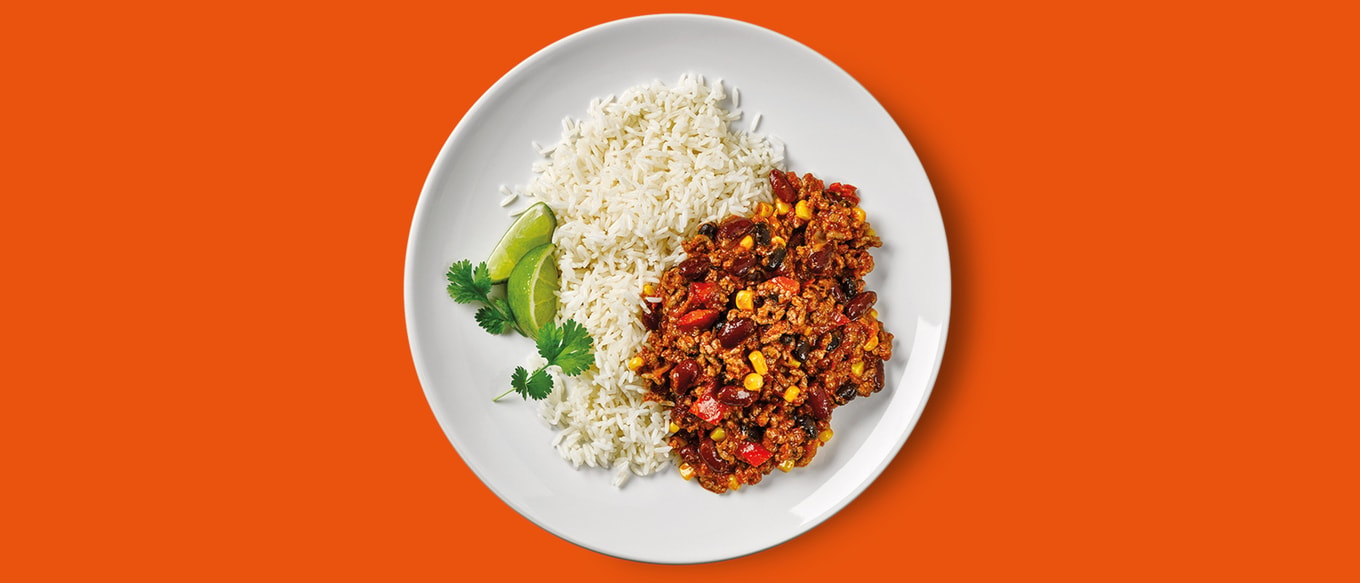 Our chilli con carne recipe is loaded with kidney beans and black beans and makes a perfect mid-week dinner for everyone.
INGREDIENTS
2 x Ben's Original™ Long Grain Microwave Rice 250g
450g extra-lean minced beef
1 medium onion, chopped
1 clove garlic, finely chopped
200g sweetcorn
200g red kidney beans, rinsed and drained
200g black beans, rinsed and drained
1 medium tomato, seeded and chopped
1 can (226.8g) chopped tomato
1 tbsp chili powder
1 tsp ground cumin
Lime wedges
Coriander
INSTRUCTION
1

In large saucepan, cook and stir minced beef, onion and garlic together for 5 to 7 minutes or until brown; drain.

2

Stir in remaining ingredients except rice, lime and coriander. Heat to boiling. Cover and simmer 15 to 20 minutes, stirring occasionally, until thick.

3

Meanwhile, heat Ben's Original™ rice as directed on package. Serve chilli with rice. Garnish with lime wedge and coriander.
NUTRITION
Amount Per Serving
Energy (kcal) 525.84
Energy (kJ) 2198.74
Protein (g) 37.49
Saturated Fat (g) 3.36
Added Sugar (g) 0
Total Carbohydrate (g) 61.49
Total Fat (g) 11.23
Total Sugar (g) 6.01
Dietary Fibre (g) 13.67
Sodium (mg) 570.00